هذه هي الصفحة الرسمية لمستخدمي جالاكسي في البلاد الناطقة باللغة العربية سيتم وضع أية أخبارأو نقاشات جديدة في هذه الصفحة معظم المحتوى في هذه القائمة البريدية سيكون باللغة العربية الاشتراك في القائمة البريدية مفتوح مجانا للجميع . أدخل إيميلك واختر باسورد بالأسفل للاشتراك في القائمة البريدية

---
Regional news and Arabic language support
This list is for announcements to (and discussion within) the Arabic speaking Galaxy Community. Anyone interested in Galaxy is encouraged to join. Much of the content on this list will be in Arabic. Subscription is open to all.
The
Galaxy Project
also has several other
mailing lists
.
A searchable archive of all postings to this list is available.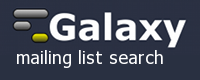 To see the collection of prior postings to the list, visit the Galaxy-Arabic Archives.